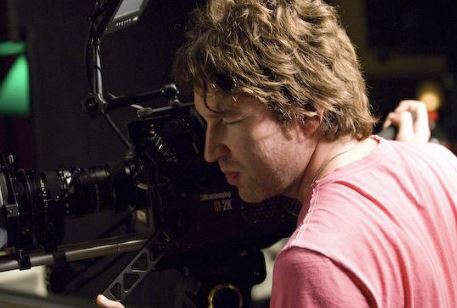 A standout movie at the 2019 Arrow Video FrightFest was Tony Dean Smith's Volition. Co-written with Smith's brother Ryan, this cerebral sci-fi thriller has reviewers drawing parallels with Looper, Inception and Black Mirror. We rather enjoyed it too..
Adrian Glynn McMorran of TV's Arrow is James, a man afflicted with clairvoyance. Believing destiny is fated so there is no point in trying to be better, he gets by using his ability to scam sports bets. But, after becoming involved in an illegal diamond exchange, James begins to see visions of his own murder.
Together with Magda Apanowicz's Angela, a woman who has burst into his world, he must discover the identity of the unknown killer. A journey that will reveal to him his affliction is not quite how he understands it…
We were lucky enough to catch up with Smith on the eve of Volition's UK Premiere at FrightFest to discuss one of the year's most inventive sci-fi movies.
---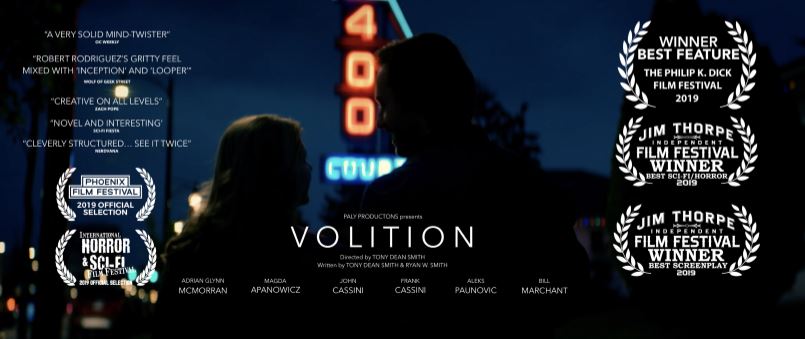 ---
Rob Daniel: Volition is an intriguing puzzle box. Did you and your brother Ryan have a room filled with string linking different plot points to make sense of it?!
Tony Dean Smith: Ha ha! Yes, we basically lived in the A Beautiful Mind shed throughout the course of the writing! Really, this has been one of the hardest projects for Ryan and I to write. It is a puzzle, which has kept it endlessly engaging, but certainly challenging.
We found ourselves constantly struggling to keep character and the human elements alive, while juggling the intricacies of the unique plot dynamics. It was a dance… and dance we did, in our shed of doom.
RD: How long did it take to write and how do you and Ryan collaborate on that process? Do you work together, or separately and comment on each other's drafts?
TDS: The initial concept for Volition had been in my head for a long time. I actually wrote a short film back in film school many, many years ago, but never produced it.
Then, back in 2012, I wrote the first feature version of the film. It had similar characters and themes to the current version, but the plot shape was quite different.
Around 2015 or so, my brother Ryan and I started collaborating on the script. So, so many different drafts were written, with us taking that initial idea and re-shaping it to become the strange beast it is. As I mentioned, shed of doom..!.
We worked seemingly forever on the drafts, at time scrapping entirely full new versions of the story. Ultimately, we landed on the current version, which we really love.
As for our process, we tend to spend a lot of time together in the beginning, wrestling with ideas, sometimes just wrestling. We throw all we have against the wall. Soon, a shape starts to form and we work together to create a rough outline.
We then split the outline in the middle and each of us takes a half to write on our own. Our voices are similar, so the two halves usually join together quite well. We then discuss, give notes, then trade halves and re-write each other's work. We continue this process over and over again, until it's a cohesive piece.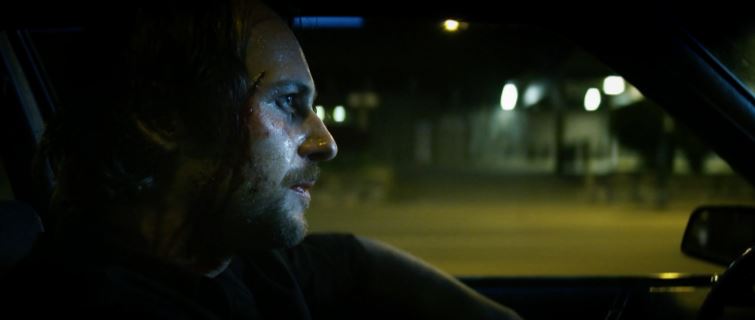 RD: Volition is a great example of rewarding audiences who bring their brain to the cinema. How easy was it to finance? Did the thriller and love story elements help to get funding?
TDS: We have been so fortunate with our producing partner and financier, Paly Productions. They are a brainy bunch, who were immediately drawn to the puzzle nature of the story. That being said, we also pitched it as sort of a Mementomeets TrueRomance. I think having all that cerebral work wrapped into a gritty thriller and romance made the film extra appealing.
RD: On a similar note, the cast fit their characters perfectly. Did you have to pitch the film hard to them or did they get what you were doing?
TDS: We love our cast, and, no, it wasn't a hard sell. They really responded to the script and were very game! Having worked in the Vancouver film industry for years, Ryan and I have known or worked with each of our leads before, and we adore them, not just for their incredible skills on screen, but for their heart, intelligence and authenticity.
RD: Was there anything you had to lose in the finished film for the sake of clarity or budget?
TDS: Fitting a big idea into a smaller budget is tough. We knew that our "cerebral sci-fi" elements wouldn't require a lot of CGI, so it was evident early on that the big challenges for us in executing the idea was going to be in properly setting up James' condition and then delivering on it.
By the time we had gotten our first rough-cut done, we knew we had something we were proud of. But, we also knew that our ending just wasn't landing like we had hoped. It was much more on-the-nose positive, tied in a bow, and we felt the film deserved a more ambiguous, brain-challenging ending. With more edits and some pick-up shoots, we found the ending that really fits the film.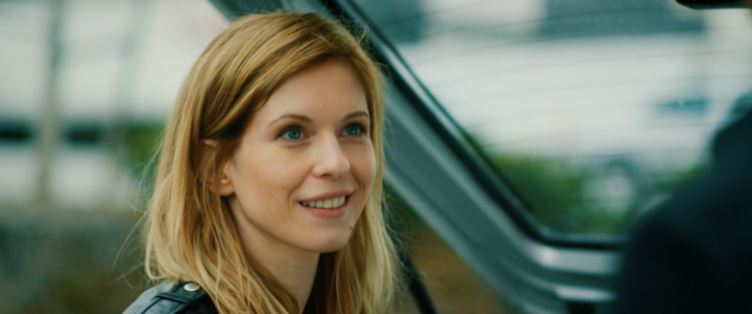 RD: Congratulations on winning Best Film at the 2019 Philip K. Dick Film Festival. How is the film being received on the festival circuit?
TDS: Yes, the Best Feature win at the Philip K. Dick Film Festival was incredible, especially since it was our premiere festival. This movie has been in our heads for a long time, so to be able to share it with our first audience– and for them to respond so positively was truly gratifying.
As for the festival run, it's been an amazing whirlwind. The reception has been powerful and so positive. We started out at PKD and the film has now travelled across the globe, from as far as Brazil, to Berlin, to Los Angeles, Slovenia, London, Italy and soon, our home country, Canada.
We feel really privileged to be engaging with a global community on Facebook, Twitter and Instagram. The world is getting smaller and smaller.
RD: How does it feel to be playing Volition at FrightFest?
TDS: We've only heard incredible things from friends who have attended FrightFest in the past. It's legendary as a mecca for all things genre. We love the passion and enthusiasm we've seen from fans online and can't wait to share our film with this ragged bunch!
RD: What is next for you both?
TDS: We actually have a few exciting projects up our sleeve, which absolutely take off from where Volition ends. We're working on a special now, inspired by our late grandfather, a magician. It's not the exact same genre per se, but 100% in the science-fiction wheelhouse. We think fans of Volition will be really excited!
Volition played the 2019 Arrow Video FrightFest festival on Saturday 24th August 2019.
---
Follow the film on:
---
Many thanks to Tony Dean Smith and Ryan Smith for making this interview possible.
---