In a normal year, the August Bank Holiday weekend would see horror fans from across the UK (and the world) flocking to London's Leicester Square for FrightFest. For twenty years the annual five-day horror movie extravaganza has dazzled and disturbed in the heart of London.
You may have noticed 2020 is not a normal year. You could say it's a year straight out of a horror movie… and rubbing salt into the axe wound; it's not even a good horror movie. Rather, 2020 is one of those duff remakes, meaning it is repetitive, dull and wearying rather than surprising, lively and exhilarating. A Nightmare on Elm Street 2010 as opposed to A Nightmare on Elm Street 1984 then.
But, here is some good news in a bad year: the Arrow Video FrightFest is going ahead in its August Bank Holiday weekend slot, albeit with an inevitable significant change.
Namely, that FrightFest 21 is going online with a digital festival. Modelled along the lines of a typical FrightFest, there will be Arrow Video and Horror Channel branded screens, live discussions and short film presentations.
Twenty five movies will be showcased from Thursday 27th to Monday 31st August, and as per usual weekend passes and individual tickets are available. The programme may be smaller than normal, but the stats remain impressive: films from ten countries across four continents are represented, including seven world premieres and sixteen UK premieres.
---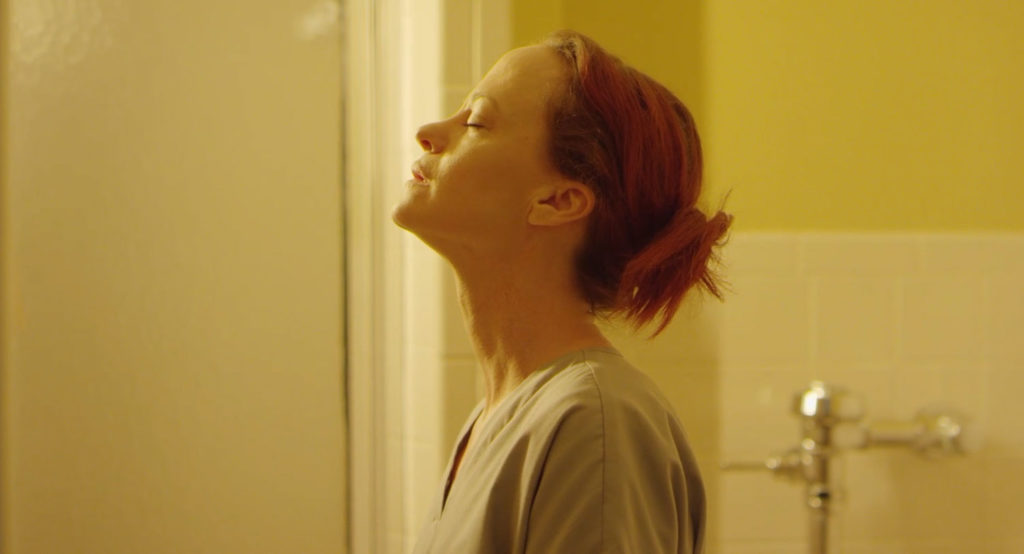 ---
So, what to watch? We've been fortunate enough to see some of the titles screening and recommend you check out 12 Hour Shift (above), Two Heads Creek and The Columnist (below).
Starring horror favourite Angela Bettis of May and The Woman fame, Brea Grant's 12 Hour Shift is an organ transplant shocker populated by characters whose morals are as slippery as the livers and kidneys they sneak out of a small town hospital. But, there is more to this deliciously dark comedy shocker than that…
UK/Australian production Two Heads Creek is a cannibal comedy mash-up that plays like Tucker and Dale Vs. Evil meets Wolf Creek.
A must-see is The Columnist, a razor-sharp satirical slasher from The Netherlands about a liberal opinion writer who declares war against online trolls. Topical, bloody and laugh-out-loud hilarious, it features a magnificent performance from Katja Herbers as the disgruntled journalist.
Other movies grabbing our attention and quickening our pulse include I Am Lisa, a lycanthropic retelling of I Am Legend, supernatural romance A Ghost Waits (which wowed audiences at FrightFest Glasgow in March) and a documentary about groovy Evil Dead fans, Hail to the Deadites.
---
---
One of FrightFest's best aspects is the social buzz across the weekend. Three free events promise to provide a taste of that trademark FF social liveliness.
On Thursday 27th August at 7pm, The Evolution of Horror podcast creator Mike Muncer will MC the FrightFest Live Pub Quiz. Being hosted on The Evolution of Horror YouTube channel, it's open to all and promises to be a fiendish battle of wits on all things horror.
At 7pm on Sunday 30th, Den of Geek's Rosie Fletcher will host a panel discussion with to-be-announced guests on how horror filmmakers are coping with a coronavirus world. Guaranteed to be a fascinating debate, check here for when details of how to join the event will be released.
Finally, the Arrow Video Podcast will be hosting a live event at 12pm on Monday 31st. Hosts Sam Ashurst and Dan Martin will provide their typical banter, joined by special guests from this year's festival. For those of us who still love physical media on our shelves, the pair will be exclusively announcing updates on Arrow Video releases.
If 2020 behaves itself, there are plans for an in-cinemas FrightFest in October. But, it's a dark treat that this August will have its bank horrorday weekend.
As is customary, the final word goes to horror guru and FrightFest co-director Alan Jones:
"We will desperately miss seeing all of you in person this August Bank Holiday but are looking forward to our virtual connection where we can say hello to the best family in the world, the FrightFest community. And if you've never experienced a FrightFest before, and have always yearned to join in with the fear, fun and fabulousness now is your chance to find out what you've been missing for 21 years".
---
---