Director: Adam Wingard
Writer: Eric Pearson, Max Borenstein (screenplay), Terry Rossio, Michael Dougherty, Zach Shields (story)
Cast: Alexander Skarsgård, Millie Bobby Brown, Rebecca Hall, Brian Tyree Henry, Kaylee Hottle, Demián Bichir, Julian Dennison, Kyle Chandler
Producers: Alex Garcia, Jon Jashni, Eric McLeod, Brian Rogers, Thomas Tull
Composer: Tom Holkenborg
Cinematographer: Ben Seresin
Editor: Josh Schaeffer
Cert: 12
Running time: 113mins
Year: 2021
---
---
What's the story: An attempt to get Kong back to his mythical home world deep below the surface of the earth puts the oversized ape on Godzilla's radar. An ancient rivalry will soon transform into a monster-sized smackdown.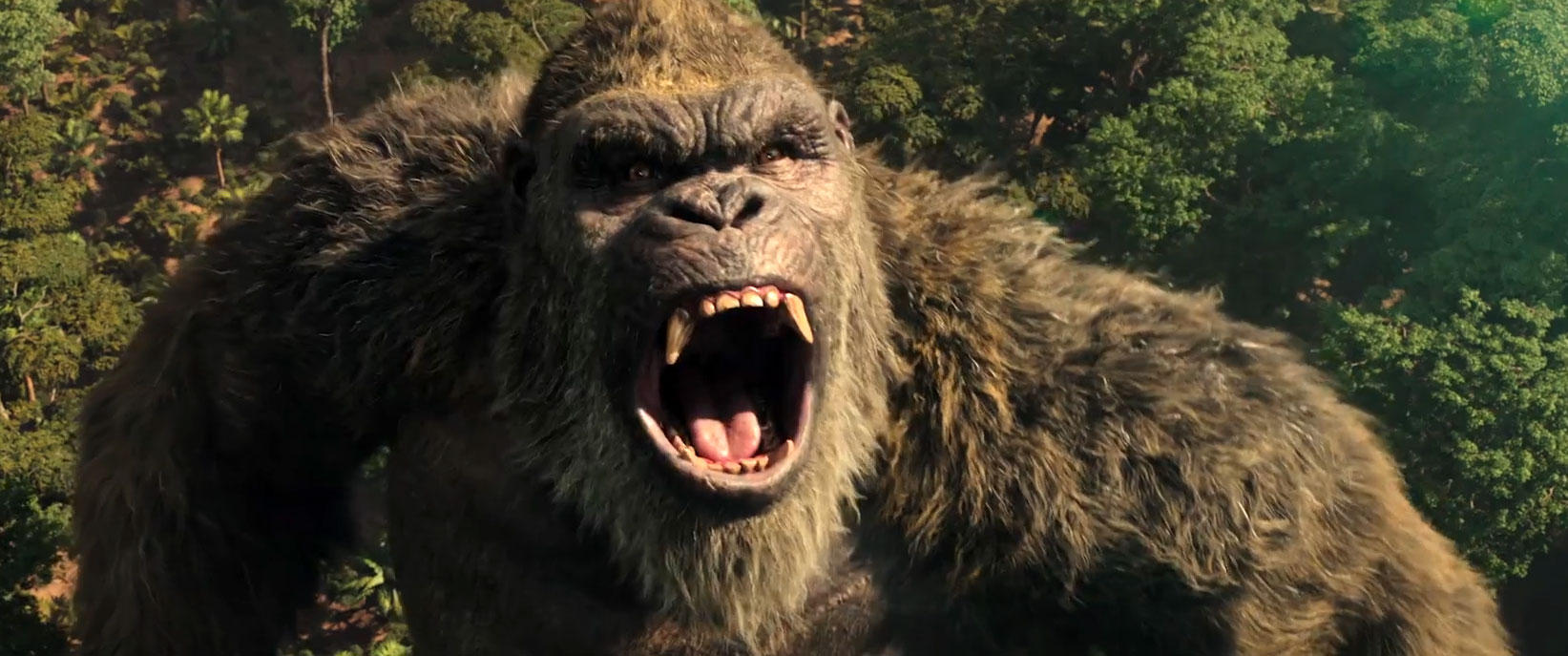 What's the verdict: Landing between the purple haze delirium of Jordan Vogt-Robert's 2017 Kong: Skull Island and the over-plotted lunacy of Michael Dougherty's 2019 Godzilla: King of the Monsters, Adam Wingard's Godzilla vs. Kong is an XXXL slab of blockbuster mayhem. Only slightly diminished by its home-rental debut.
Watching this fourth instalment in Legendary Entertainment's MonsterVerse saga is to note how closely it, ahem, apes Toho's treatment of Godzilla. After a debut movie that favoured awe and dread, both series swiftly nestled into easier-to-sell camp.
1962's King Kong vs. Godzilla (most widely seen in its recut and dubbed American 1963 release) was the third movie in the Toho franchise. That film's plot, about an opportunistic businessman staging a publicity-attracting dust-up between the two titans, is not a million miles away from what happens here. Toho's movie even featured scenes of Kong being transported by sea and air, both of which crop up in this latest outing.
The (excess of) plot sees Ilene Andrews (Hall) attempting to return Kong to his original home world. Said world is the Hollow Earth, mentioned by Bradley Whitford in the 2019 movie, and a kind of Centre Parcs for monsters. Andrews' task neatly coincides with Nathan Lind's (Skarsgård) expedition to the Hollow Earth, in search of an energy source that will benefit his paymaster, Walter Simmons (Bichir). That Simmons is CEO of a corporation named Apex Industries is a clue he may have priorities beyond getting Kong home.
Meanwhile, Madison Russell (Brown, back from the 2019 movie) is convinced Godzilla's recent destructive behaviour is not just a titanic temper tantrum. Teaming up with comic relief mates, Josh (Dennison) and conspiracy-smelling podcaster Bernie (Henry), she attempts to blow the lid off what's causing the bad conduct.
Add on to that Godzilla and Kong's "ancient rivalry," some theoretical physics that would not be out of place in Nolan's Interstellar, plus callbacks to the previous movies, and you have a lot going on.
That Godzilla vs. Kong does not buckle under its plot lifting is testament to director Wingard's assured handling of two of cinema's most outsized icons. Having made his name with indie horrors You're Next and The Guest, he is surprisingly more comfortable meeting blockbuster demands than rebooting horror franchises (see the fumbled Blair Witch).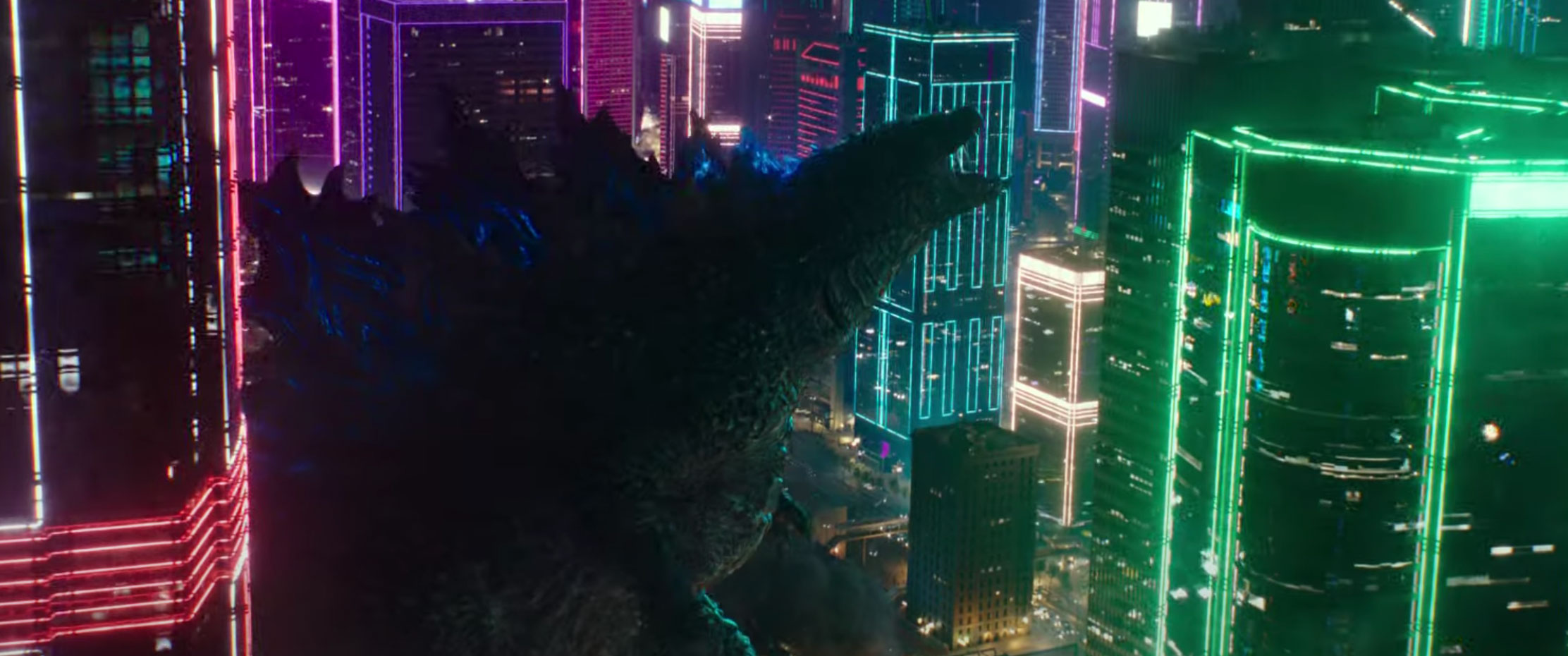 The human stuff is as overbaked and underdeveloped as in Godzilla: King of the Monsters. Millie Bobby Brown's subplot is at least three rewrites away from passing muster, with Henry's character's grief played for a tumbleweed punchline. Luckily, the film continues the series' tradition of hiring likeable actors to turn underwritten characters into something resembling recognisable people. No-one delivers a bad turn, including debuting actor Kaylee Hottle, bringing genuine heart as the last surviving tribesperson of Skull Island and Kong's confidant, and Chandler, cameo'ing after his lead turn in 2019.
Elsewhere, a surprise appearance from an audience favourite is a well-kept secret, and a salutary example of not putting everything in the trailer. Avoid spoilers before viewing, meaning stay off the internet.
Monster action is energetically executed, Wingard letting his visual imagination fly free courtesy of the film's c.$160m price tag. A shot of Andrews' team flying into the middle of a prehistoric punch-up is just one moment that leaves you craving the big screen experience. Comic visual asides (Kong using a building to put his shoulder back in place) add to the fun, even if Godzilla is less likeable next to the film's prime mate. Although fret not, Batman v Superman levels of character betrayal are absent.
Jettisoned early on, plot logic remains AWOL pretty much throughout. The huge loss of life caused by the climactic mayhem is sidestepped by asking the audience to accept that Hong Kong could be largely evacuated in twenty minutes flat…
Maybe our enthusiasm is lockdown talking, and we would be less generous if not so starved for blockbuster ballistics. For now, however, this is another enjoyable slice of camp hokum and Jules Verne-style high adventure. With no post-credit sequence teasing where the story will go next, watch the rumour mill go into overdrive.
Lights, Gamera, Action, anyone?
Rob Daniel
Twitter: rob_a_Daniel
Letterboxd: RobDan
Podcast: The Movie Robcast
---