2020. A year in which you grab good news where you can.
Some great news for this October is that the London Film Festival will be going ahead for its 64th year.
Running from Wednesday 7th to Sunday 18th October, over 50 films will be showcased as Virtual Premieres on the BFI Player, while a selection of movies will be screened at the BFI Southbank and in cinemas across the UK.
Of course, the 64th London Film Festival is hosting fewer titles. But this is a bizarre year and not packing out cinemas is the only sensible option. Plus, in May the BFI proved shifting a festival online can work when Japan 2020 became a BFI Player-only event.
Films from across the globe will be showcased in the regular festival strands, geo-locked to the UK. Every screening will feature a filmmaker intro or Q&A and this year audiences will be the judging the festival's awards. Those watching movies online will be asked to vote in the Virtual LFF Audience Awards for Best Fiction Feature, Best Documentary Feature, Best Short Film and Best XR.
As Festival Director Tricia Tuttle says, "We all want to be back in cinemas, seeing films on the big screen, together, immersed. But we also want to keep seeing new cinematic storytelling from all parts of the world, hearing different voices and perspectives; this version of the LFF delivers on both of those aims."
What are the ten movies we cannot wait to see this year? Let's dive in…
---
CLICK THE FILM TITLES BELOW FOR BOOKING INFORMATION
---
In a year where Black Lives Matter protests dominate headlines as much as the global pandemic, it is appropriate that the London Film Festival opens with Steve McQueen's Mangrove.
The director's excellent Widows opened the LFF in 2018. Mangrove is one of five feature length films McQueen has directed under the "Small Axe" banner for a BBC-Amazon co-production. Starring Black Panther's Letitia Wright, the film recounts the true story of a resistance movement that rose against the wrongful arrest of nine black activists in 1970. The movement began in Notting Hill's Mangrove restaurant, a community centre for the local population.
The alleged crime of the nine arrested? Incitement to riot. With Donald Trump's violent response to peaceful protests in the US, and countries around the world, including the UK, taking a critical look at their difficult pasts, Mangrove's 50 year old story could not be more timely.
---
Frances McDormand stunned LFF audiences in 2017 with her ferocious performance as the bereaved, enraged Mildred in Three Billboards Outside Ebbing, Missouri. McDormand would go onto win the Best Actress Oscar for that performance, and if advanced word is anything to go on she will be collecting another gold statue next year.
Chloé Zhao's Nomadland won the Golden Lion at the Venice Film Festival this month and looks to be an excellent study of America's heartland, per the director's 2017's The Rider and 2015's Songs My Brothers Taught Me.
McDormand is Fern, a woman in her sixties travelling through forgotten communities of the American West, after the economic crash leaves her with only a van to call home. A docu-drama hybrid, Nomadland sees McDormand working in real places, including a cavernous Amazon warehouse. A good comparison point seems to be the criminally underappreciated Leave No Trace. One of the festival's films we're most anticipating.
---
We've been fortunate enough to already see Brandon Cronenberg's dazzling, disturbing thriller. If you like your sci-fi on the "challenging" side, this may be your film of the festival. Possessor is what would emerge if writer/director Brandon took dad David's movies eXistenz and A History of Violence and threw them both into The Fly's telepod. Or put another way, it is Inception remade as Under the Skin.
Andrea Riseborough plays a shadowy agent who, via mysterious neural technology, can jump into people's minds without their knowledge to carry out high level assassinations. But, her latest "host" begins to suspect someone is messing around in their noggin. Shocking, exhilarating and darkly funny, it will leave you breathless. Be excited. Be very excited…
---
If Nomadland won the Golden Lion, which film won the Silver Lion? This astonishing Mexican thriller from Michel Franco. Naian González Norvind is Marianne, a society bride whose wedding day unfolds as something a little more dramatic than "the flowers haven't turned up" or "Nan's hit the bar early and is telling inappropriate jokes". True, Marianne's guests are delayed due to social unrest outside. But matters grow more worrying when protesters breach the walls and crash the wedding.
Franco reportedly paints a vivid portrait of a world consumed by greed and corruption. Where those without money are literally without value and power is prized higher than such inconveniences as basic human decency. We can't wait to see where the director's fierce moral compass takes us.
---
Danish director Thomas Vinterberg steps away from the big budget FX driven thrills of 2018's Kursk: The Last Command for a film that seems to hark back to 2016's The Commune or 1998's Festen, his breakthrough movie.
Festen was part of the Dogme 95 movement, along with Lars von Trier's The Idiots, and Another Round seems to be a more accessible version of von Trier's film. Where The Idiot's had its characters feign mental disabilities to protest society's restrictions, Vinterberg's movie is sees a group of friends test whether increasing alcohol levels in their blood stream can make them higher performing individuals. The answer may well be yes, but is this too much of a good thing?
Expect smart storytelling and wry humour, plus a typically first rate performance from Mads Mikkelsen.
---
Elisabeth Moss began the year with horror box office smash The Invisible Man. As the year draws to an end she will be seen playing Shirley Jackson, author of The Haunting of Hill House, one of horror fiction's most celebrated novels. Oh, and The Lottery, one of horror's most notorious short stories.
From Josephine Decker, director of Madeline's Madeline, and based on Susan Scarf Merrell's 2014 novel, Shirley looks to be a daring blend of Who's Afraid of Virginia Woolf? and Gods and Monsters. Odessa Young and Logan Lerman are a couple who spend time in Jackson's vast house, with her and her caring, controlling husband (played by Michael Stuhlbarg). Things get weird…

Expect caustic commentary on gender wars, mordant wit and a bunch of surprises.
---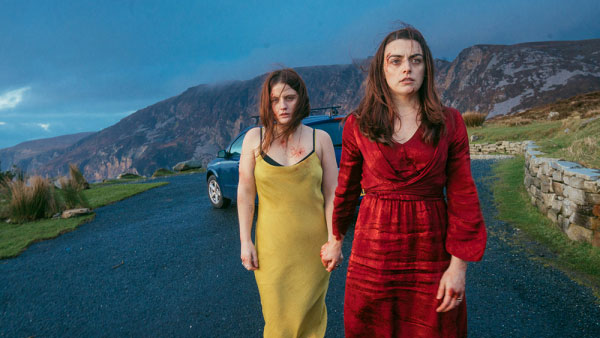 Repressed trauma takes on a metaphorical element in Cathy Brady's directorial debut. On the Irish border, Lauren (Nora-Jane Noon) is stunned when her long believed dead sister Kelly (Nika McGuigan) reappears. Secrets are unearthed as the pair are forced to face historic resentments in a film that reportedly simmers with tension and erupts into violence.
---
Barack Obama once said Joseph Conrad's Heart of Darkness helped him understand why "white people are afraid." British-Nigerian poet and activist Femi Nylander takes Conrad's novel of colonial paranoia as a launching point to explore Niger, uncovering the ways in which a brutal past has shaped the present. Revealing the horrors of life under colonial rule, Nylander's film will be a tough watch, but a necessary one as Europe continues to address its past on the African continent.
---
SOUL (Family Strand)
Pixar must have had a crystal ball and known we'd need a double dose of their feelgood magic this year. Soul is the animation studio's second release in 2020, following the delightful Onward back in March.
When hearing the plot, it will come as no surprise this is co-directed by Pete Docter, one of the creators of 2015's marvellous Inside/Out. Jamie Foxx voices Joe, a musician who dies on the best day of his life and refuses to go gently into the Great Beyond. Hooking up with Tina Fey's 22, a sassy fresh born soul, Joe vows to get back to his body and finish his life.
So, Inside/Out meets A Matter of Life and Death? Sign us up!
---
Closing the festival is the new film from Francis Lee, following his acclaimed debut God's Own Country. A fictionalised account of 19th century palaeontologist Mary Anning's relationship with a gentlewoman, this continues Lee's interest in depicting a love scorned by society. While using the dramatic English countryside to externalise passions. Kate Winslet and Saoirse Ronan, two of the greatest actors of their generations, head up what should be a moving festival closer.
We'll give the final word to BFI CEO Ben Roberts: "Although it's been born out of crisis, this year's edition of the LFF will be our most accessible yet. Thanks to the many talented and dedicated teams across the BFI, and the encouragement of our partners and industry colleagues – we have shaped a festival that suggests a future for bringing filmmakers and film lovers together."
---
---
Rob Daniel
Twitter: rob_a_Daniel
iTunes Podcast: The Movie Robcast